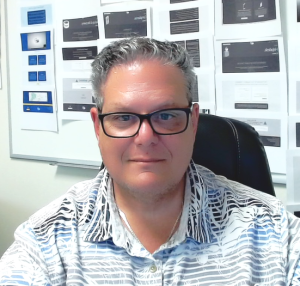 In an exciting development for Nothing But Net, we are delighted to announce the appointment of Stuart "Stu" Selbst as our new Director of Client Experience. With over 30 years of experience in the IT industry, including running his own Managed Service Provider (MSP) and consulting with MSPs across the globe, Stu brings a wealth of expertise and a deep understanding of client needs. His addition to our team promises to enhance the way we serve our clients and drive exceptional customer experiences.
 Nothing But Net, a leading provider of IT services and solutions, is pleased to welcome Stuart "Stu" Selbst as our new Director of Client Experience. Stu's extensive industry background, entrepreneurial spirit, and dedication to customer satisfaction make him an ideal fit for this pivotal role within our organization.
 Stu has amassed over three decades of invaluable experience in the IT industry, positioning him as a seasoned expert in providing outstanding client support. His journey began with his own successful MSP, where he gained firsthand knowledge of the challenges and demands faced by both clients and service providers. Stu's experience as an entrepreneur allowed him to develop a deep understanding of the MSP landscape, which later became a foundation for his successful consultancy work.
 As a consultant, Stu had the privilege of working with MSPs not only in the United States but also in Europe and Australia. His international exposure broadened his perspective on the varying needs and preferences of clients across different regions. This global experience equipped Stu with the ability to adapt and tailor his approach to meet the unique requirements of each client and market, ensuring that the solutions delivered were both effective and efficient.
 Stu's expertise extends beyond technical proficiency and encompasses a comprehensive understanding of the customer's journey. He recognizes that providing exceptional client experiences is essential for long-term success and is committed to ensuring that every interaction with Nothing But Net exceeds expectations. With his innate ability to empathize and deeply connect with clients, Stu possesses the skills necessary to cultivate meaningful relationships that foster loyalty and trust.
 In his role as the Director of Client Experience at Nothing But Net, Stu will be responsible for overseeing and optimizing all touchpoints throughout the client's lifecycle. This encompasses everything from initial sales, to onboarding, to ongoing support and continuous improvement. By working closely with our clients, Stu will champion their needs, identify areas for improvement, and drive initiatives to enhance the overall customer experience.
 Stu's arrival marks an exciting turning point for Nothing But Net, as we reaffirm our commitment to delivering unparalleled service and support to our clients. With his guidance, we are confident that our client interactions will be further refined and streamlined, resulting in increased satisfaction and long-term partnerships.
 At Nothing But Net, we pride ourselves on our ability to adapt to evolving industry trends and emerging technologies. With Stu's vast industry knowledge, we can stay at the forefront of the IT landscape and ensure that our clients benefit from the most advanced solutions and services available.
 We extend our warmest welcome to Stu as the Director of Client Experience at Nothing But Net. We are confident that his exceptional skills, deep industry expertise, and unwavering dedication to customer satisfaction will have a transformative impact on our organization and, most importantly, on the experiences of our valued clients.
 With Stuart assuming the role of Director of Client Experience, Nothing But Net is poised to deliver even higher levels of customer satisfaction. Stu's decades of experience, coupled with his passion for understanding and fulfilling client needs, make him the perfect fit for this crucial position. We are excited about the opportunities that lie ahead and look forward to working alongside Stu to create exceptional customer experiences. Together, we will continue to raise the bar for client satisfaction and solidify Nothing But Net's position as a trusted IT service provider in the industry.